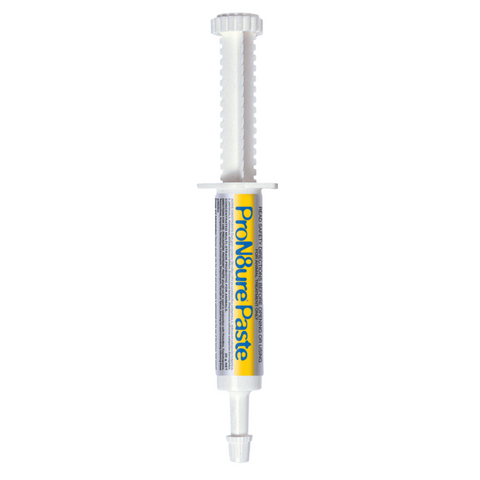 Pron8ure Paste 30gm
A 30gm paste form for oral administration, Protexin is a live microbial feed supplement which improves intestinal balance. Useful during intestinal dysfunction such as diarrhoea and following antibiotic therapy and periods of stress. Safe in puppies and kittens!
BENEFITS OF PROTEXIN - Name change to ProN8ure
Establishment of beneficial gut microflora
Suppression of E. Coli Salmonella & Aeromonas spp
Treatment and control of scouring and diarrhoea
Improved digestibility of feed
Improved growth and feed conversion
Reduced digestive upsets
Enhanced animal health
Re-establishment of gut microflora following antibiotics, wormers or vaccination
Reducing stress (stress disrupts normal intestinal balance)
Safe, non-toxic and residue-free.
DOSAGE
Dose at stress levels for the first 5 days and then dose at maintenance levels. Stress level dose can be continued for longer if necessary.

Stress Levels Dose / Day: Horses: 10 to 20g Ponies: 5 to 10g Foals: 5 to 10g Dogs: 1 to 3g Puppies and Kittens: 1 to 2g Cats: 1 to 3g Cattle, pigs, sheep, goats: 2 to 4g Calves, piglets, lambs, kids: 1 to 2g  
Maintenance Doses are Half the Stress Levels Dose.

CONTRAINDICATIONS 
Pron8ure Paste should not be used in conjunction with Penicillins, Cephalosporins, Tetracyclines, Avoparcin, Gentamycin, Lincomycine, Streptomycin, Tiamulin or Tylosin, but may be used immediately following these antibiotics to re establish the normal gut microflora.