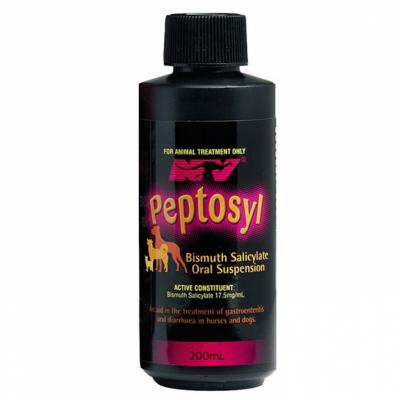 Peptosyl 200 mL for Diarrhoea & Gastrointestinal Disturbances
Peptosyl liquid is used for the treatment of diarrhoea and gastro-intestinal disturbances in dogs and horses.
Also available - protexin probiotic, electrolytes, Nutrigel, Calcium and much more at great prices! 

PEPTOSYL can be used in cases of gastro-intestinal disturbance. It will rapidly relieve the majority of gut upsets from dietary or non-infectious causes. If rapid response is not seen, seek veterinary diagnosis of the condition without delay.
DOSAGE AND ADMINISTRATION
Administer orally.
Horses: 0.5 - 1.0 mL per kg
Dogs: 0.25 - 0.5 mL per kg
Repeat dose every 6 hours for 36 hours and thence at 12 hour intervals for a further 2 to 3 days.
Where possible, withhold food for 24 hours (but do not restrict nursing in foals or puppies).
Ingredients - Bismuth sub-salicylate 17.5 mg/mL
Store in a dry place below 25°C (Air Conditioning).