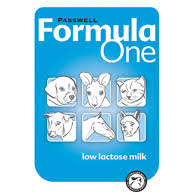 Formula One Low Lactose Milk Paswell 500gm or 1kg from
Formula One is a low lactose emergency milk formula that can be used for a range of different species including puppies, kittens, lambs, piglets, calves foals, cria, marsupials and zoo animals.

Key Features
• Formulated from low-lactose ingredients, with an improved nutritional profile than cow's milk products.
• High in whey proteins for improved digestibility.
• Enhanced levels of unsaturated fats including omega-3 & 6 fatty acids.
• Elevated taurine content – an essential nutrient for the development of carnivores.

 Ingredients
• Casein, whey proteins, milk fat, dextrose, vegetable oils, omega-3 and omega-6 fatty acids, taurine, vitamins A, B1,B2,B6, B12,C,D3,E,K, nicotinamide, pantothenic acid, biotin, folic acid, choline, inositol, calcium, phosphorus, potassium, sodium, magnesium, zinc, iron, manganese, copper, iodine, selenium.

Making up Milk - Normal Strength
To make 150mL of milk: Mix 20g of powder (approx. 1 level scoop provided) with 130ml of warm water.
To make 1Litre of milk: Mix 125g of powder (approx. 6 level scoops provided) with 850ml of warm water.
Add half the water to the powder first and mix to a paste. Then add the remaining water and mix thoroughly. Pre-boil the water to ensure that it is sterilised. If the water is too hot it can cause the milk to curdle. If it is too cold then it will be difficult to disperse the powder. An electric whisk can be used for mixing. Milk can be stored in the fridge for a day or can be frozen for up to two weeks. It is useful to make up milk in larger quantities and store it frozen in small portions (eg ice cube trays), so that the required daily feed volumes can be easily thawed out. Once thawed out, discard any unused milk, and wash feeding utensils thoroughly.

 Body
Weight
Feed
(per day) 
Body
Weight 
Feed
(per day) 
100 g
30 mL
2 kg
350 mL
250 g
70 mL
5 kg
700 mL
500 g
130 mL
10 kg
 1200 mL
750 g
180 mL
50 kg
 4000 mL
1 kg
200 mL
100 kg
 6500 mL