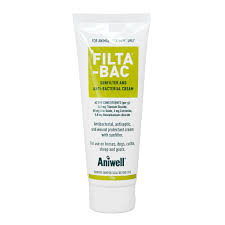 Filta-Bac Cream
Filta-Bac Sun Filter and Antibacterial Cream 120gm Tube
Filta-Bac is a multipurpose, antibacterial, antiseptic wound protection cream that also acts as a sun filter.
This multipurpose cream provides antibacterial protection to inflamed skin, abrasions and wounds. It may also be used on areas of exposed, unpigmented skin to protect against sun damage.
Key Features:
Antibacterial and antiseptic cream
Can also be used as a sunscreen
SPF covers 29-33
Suitable for dogs, goats, cattle, sheep and horses
 Precautions: Avoid frequent daily applications over large areas in animals suffering from renal failure.