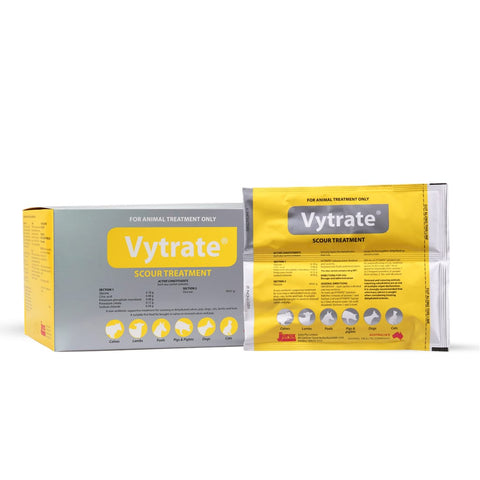 Vytrate Scour Treatment Sachets
VYTRATE SCOUR TREATMENT
Sold Per Sachet - Each Sachet Makes 2 Litres
Indications
* Diarrhoea
* Dehydration (simple or associated with disease)
* Post travelling stress and dehydration
* Supportive treatment to viral or bacterial scours

Vytrate Sachets when reconstituted as directed provide an oral rehydration therapy containing a balanced mixture of glucose, glycine and electrolytes with the added advantage of being a non-antibiotic oral supportive treatment. Once diluted Vytrate Solution is isotonic, ensuring glucose and glycine are actively absorbed by the intestinal tract, causing water and sodium to be absorbed simultaneously with these nutrients and resulting in a high degree of rehydration in scouring and dehydrated animals. For Vytrate Technical Notes Click Here

Directions for Use
For oral treatment only
Sections 1 and 2 must always be used together when preparing Vytrate Solution
* Add the contents of section 1 and 2 of one Vytrate Sachet to 2 litres of warm water, stir until dissolved.
* Continue treatment for 1 to 2 days after the animal appears clinically recovered and is feeding normally.
* If blood is present in the faeces seek veterinary advice as soon as possible.

Cats and Dogs
Cats, Miniature Dogs (<5kg) 125mL 2-3 times daily
Small dogs (5 - 10 kg) 250 mL 2-3 times daily
Medium dogs (11 - 20 kg) 500 mL 2-3 times daily
Large dogs (>20 kg) 750 mL 2- 3 times daily