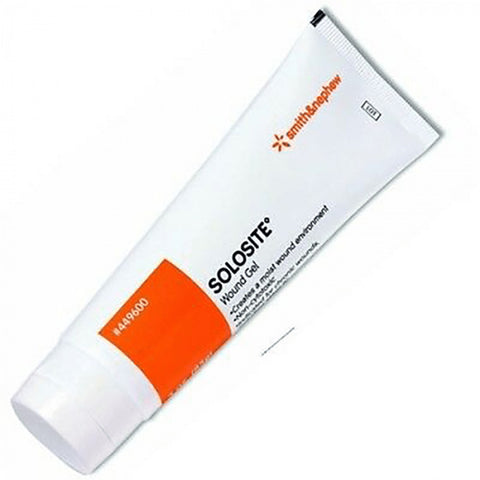 SoloSite Wound Gel 50gm
SoloSite

* Gel creates and maintains an optimal moist wound environment as it desloughs and debrides. Unlike gels formulated with water miscible polymers, 

SoloSite

's water "swellable" polymer remains gel-like until saturated, so it stays in the wound longer and requires fewer dressing changes.



SoloSite

 has been proven non-cytotoxic, non-irritating and non-sensitising (Data on File). Its crystal-clear, physically stable formula doesn't change colour, enabling an unimpeded view of the wound.
Debriding and Desloughing Action
SoloSite Gel gently rehydrates sloughy and necrotic tissue which must be removed before healing can progress. SoloSite also absorbs excess exudate, thereby halting the build-up of cellular derbris and so helping to prevent slough formation. SoloSite Gel is easily applied and removed, with gentle irrigation being all that is required for removal.
Moist Wound Healing
- SoloSite Gel provides a moist environment at the wound surface, preventing eschar formation and promoting fast, painless and problem free healing.
Multi-dose Dispensing
- SoloSite Gel contains effective preservatives to ensure that multiple reuse of the spray pack or tube may occur without fear of increasing the risk of wound infection