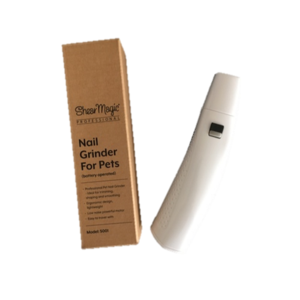 Shear Magic Professional Nail Grinder
Shear Magic Professional Nail Grinder
Great for all dogs! Handy, lightweight and quiet!
For trimming, shaping and smoothing nails.
The Shear Magic Nail Grinders is a easy to hold and quiet - Groomers have found it excellent for shy foot dogs and reconditioning anxiety dogs.
WHAT MAKES IT SO GREAT:
- DIAMOND POWER creating a more durable and thicker sanding band.
- Efficient BRASS Shaft giving you more power and faster speed.
- Removable plastic cover for high speed grinding
- Powerful motor - high speed with LOW VIBRATION and LOW NOISE
- Ergonomic deisgn. Lightweight, comfortable and easy to hold.
- Powered by 2 x AA Batteries.
Contents:
1 x Nail Grinder
1 x Instruction Manual
2 x AA Batteries