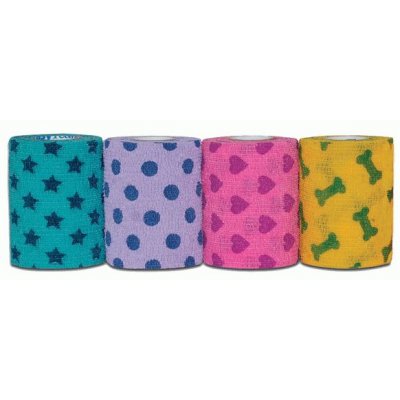 Petflex Patterned Cohesive Bandage 5 cm, 7.5cm or 10 cm x 4.7m
Made in the USA, Petflex Patterned Cohesive Bandage is a self-adherent wrap for even, consistent compression in retaining dressings, protecting wounds, immobilizing injuries or securing devices to patients.
Does not stick to skin or fur, only to itself.

Does not require any pins or clips.
Colours are chosen at random
Purple/Lilac with Polka Dots
Yellow with Bones
Pink with Love Hearts
Aqua/Green with Stars
Safety information: Never stretch the bandage while applying, as strangulation of limbs can occur due to the highly elastic nature of this bandage. Pets cannot communicate when bandages are too tight or their limbs are feeling numb. Always unroll the desired amount off the roll first, and bandage to the required area loosely.
***Colours are chosen at random***