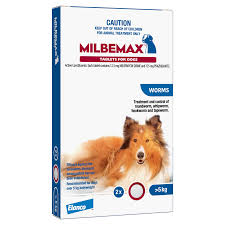 Milbemax Allwormer for Dogs Over 5kg - Packet of 2
Milbemax Allwormers for dogs over 5 kg is a treatment tablet that helps to control gastrointestinal worms in dogs including roundworm, hookworm, tapeworm and whipworm. This packet contains two tablets and will treat up to a 50kg dog.

Milbemax is suitable for pregnant and lactating bitches. For pregnant bitches, treat at mating and before whelping. For nursing bitches, treat when their puppies are 2, 4, 8 and 12 weeks of age then every 3 months. 

DOSAGE
For dogs over 5 kg up to 25 kg, give 1 full tablet

For dogs with bodyweight more than 25 kg and up to 50 kg give 2 tablets

Treat adult dogs every 3 months.

For puppies over 5 kg bodyweight and over 2 weeks old, treat at 2, 4, 8 and 12 weeks of age, then every 3 months.