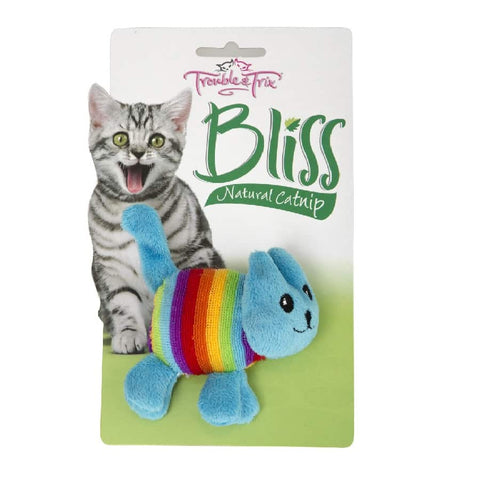 Masterpet Trouble & Trix Bliss Catnip Cat
The Trouble and Trix Bliss Cat Large is a soft plush toy that your cat will love to cuddle and play with. This quirky cat toy is made from soft and furry fabric for a cosy tactile experience and crinkly material to tempt your cat to play. It includes inner bells and rattles for added excitement, and contains high-quality catnip for extra stimulation. The key features of the Trouble and Trix Bliss Cat Large are:
Super irresistible cat character toy made from soft furry material.
Made from crinkling material complete with internal bells and rattles to encourage interaction.
Includes high-quality premium catnip to entice playful behaviour.
Cat measures approximately 12cm long.
Appeals to your cat's natural instincts to hunt, stalk, and chase.
Fun and brightly coloured for easy spotting indoors and outdoors.
Perfect for promoting daily exercise, keeping your cat healthy and fit, or as a naptime cuddle companion.