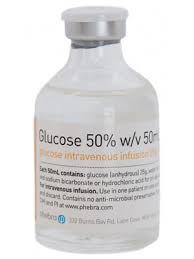 Glucose 50% w/v 50mL
To be administered under veterinary advice & guidance only.
Glucose 50% Intravenous Infusion 50mL is a sterile solution of anhydrous glucose in water for injections, adjusted to pH 3.5-6.5 with sodium bicarbonate or hydrochloric acid. It may be used to treat severe hypoglycaemia and to provide concentrated calories.
Further product information can be found at 
https://www.phebra.com/product/glucose-50-50ml/?country=au