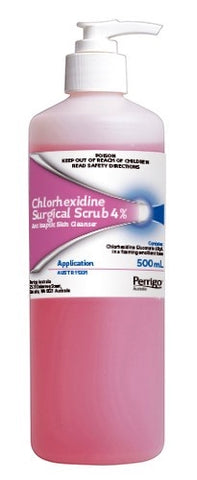 Chlorhexidine Surgical Scrub 4% - 500ml Pump Pack
Chlorhexidine Surgical Scrub 4% - 500ml Pump Pack
Recommended use: Antiseptic skin cleanser
Composition - Contains chlorhexidine gluconate 4% w/v (40g/L) in a foaming emollient base.
Actions - Chlorhexidine is an antiseptic and disinfectant, which is effective against a wide range of vegetative Gram-positive and Gram-negative bacteria. It is ineffective against acid-fast bacteria, bacterial spores, fungi and viruses. It is more effective against Gram-positive than Gram-negative bacteria, some species of Pseudomonas and Proteus being relatively less susceptible. Chlorhexidine is most active at a neutral or slightly alkaline pH and blood and other organic matter reduce its activity. Indications - Chlorhexidine Surgical Scrub 4% is indicated as an antiseptic skin cleanser. Contraindications Known hypersensitivity to chlorhexidine.
Precautions - For external use only. Do not mix with other chemicals or detergents. Avoid contact with the eyes and ears. Keep Out of Reach of Children. Adverse Effects Skin sensitivity to chlorhexidine has been reported.
Storage - Store below 30°C. Protect from light.
Chlorhex Scrub