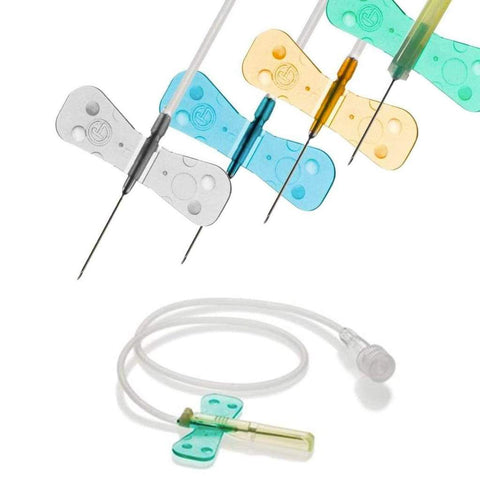 Terumo Surflo IV Catheter Winged Infusion Sets
Terumo SURFLO winged infusion sets feature a precisely honed needle with an ultra-thin wall design, ensuring easy penetration and continued access with a single insertion. The soft, flexible interlocking wings readily conform to the body of the patient , while the angle of the wings helps position the needle and reduce the risk of vessel damage during venipuncture. 
Available with 9cm (short) or 30cm (long) tubes and in the following sizes
25G x 3/4 (0.50 x 19mm)
23G x 3/4 (0.65 x 19mm)
21G x 3/4 (0.80 x 19mm)
19G x 3/4 (1.1 x 19mm)
The smaller the Gauge the thicker the needle (19G being thickest needle and 25G being the finest).
wing / winged infusion sets / butterfly