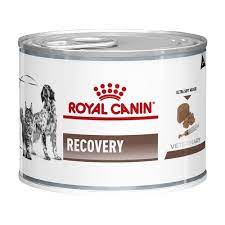 Royal Canin Recovery 195gm - Dog & Cat
IMPORTANT NOTICE
All sales of Hills Prescription Diet and Royal Canin Veterinary products, including Royal Canin Recovery Mousse, require the following conditions understood and accepted prior to sale.
The diet will be used solely for the pet and indication (which is based on the recommendation from a Vet) for which it is being ordered.
I confirm that my pet was examined by a Veterinarian who recommended the use of the selected product on the basis of his/her diagnosis.
I have read and understood that whilst the pet is using the product ordered, I will seek veterinary advice at least every 6 months regarding usage and continuation of the food recommended and ordered.
I have read and understood that I need to seek immediate veterinary advice if my pet's condition deteriorates in any way whilst using the selected product.
Royal Canin Recovery Cans For Dogs 
Royal Canin Recovery provides vital nutrition to dogs and cats recovering from illness, injury, surgery and malnutrition.
This diet is particularly recommended for:
Anorexia or malnutrition
Nutritional support during post-surgery and intensive care
Convalescence
Tube feeding
Pregnancy, lactation, growth
Cachexia (weakness and muscle wastage due to illness)
When administering through a feeding tube Royal Canin Recovery can be diluted 1 part Recovery to one part water.
Key Benefits
Highly digestible
Extra calories and protein for wound and tissue healing and immune system support
Highly palatable
Soft consistency to allow feeding via syringe or feeding tube
Antioxidant complex to protect the immune system
Do not use in patients with : 
Hepatic encephalopathy
Acute pancreatitis and hyperlipidaemia
Feeding Reccomendation: Feed until nutritional support is no longer required. Administration under veterinary supervision.
This diet contains 1112 kilocalories of metabolizable energy (ME) per kilogram or 183 kilocalories ME per 5.8 oz can on an as fed basis (calculated).